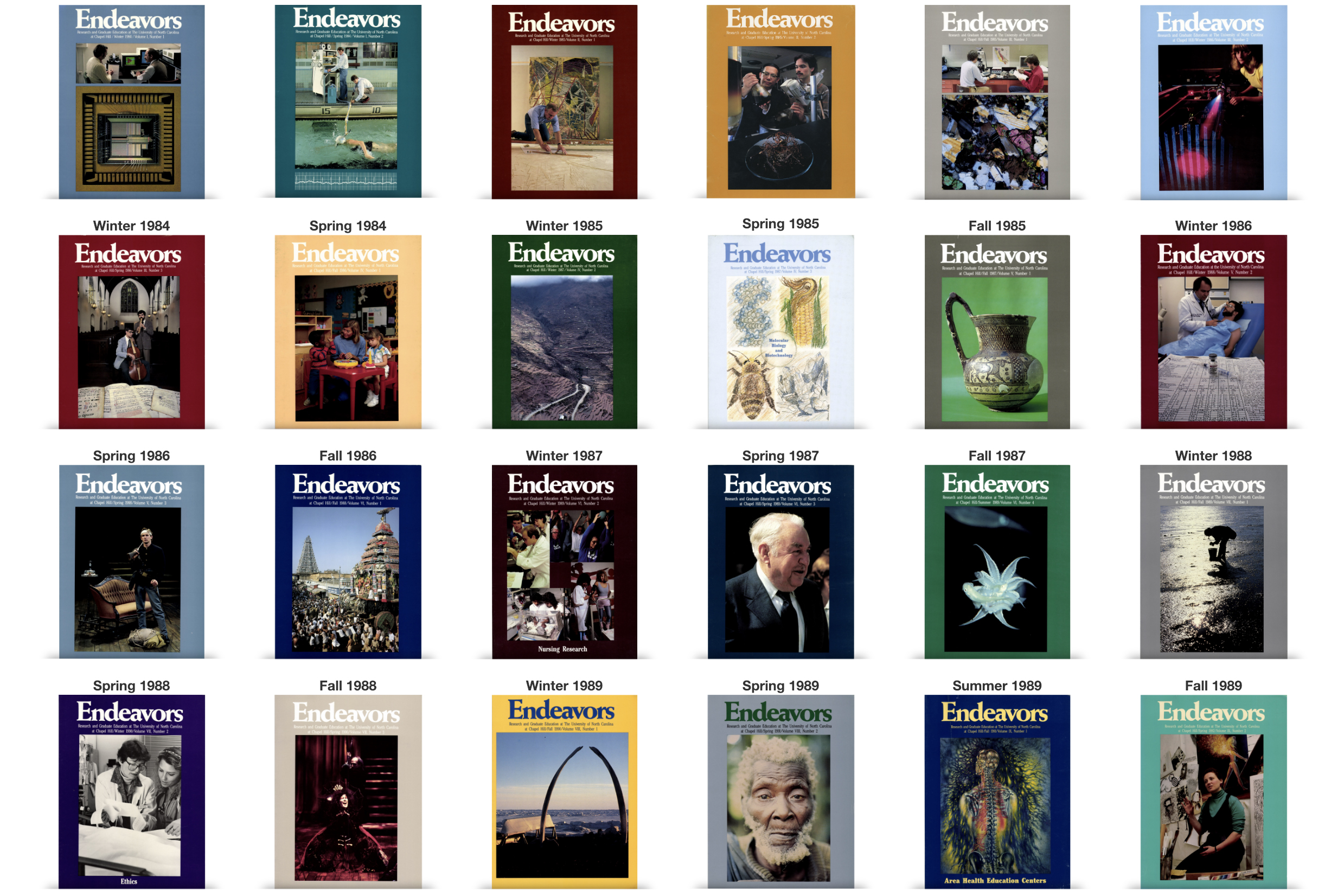 February 15th, 2019
During the past 200 years, UNC has transformed into a thriving research university and a leader across many fields of study such as cancer, infectious disease, genetics, data science, and arts and humanities scholarship. Founded as a print magazine and now an online digital publication, Endeavors has covered these creative and scientific pursuits ­­ ­­for over three decades, supporting the university's mission to serve the state and the world.
While exploring our collection of covers, be sure to click the date to see the entire magazine.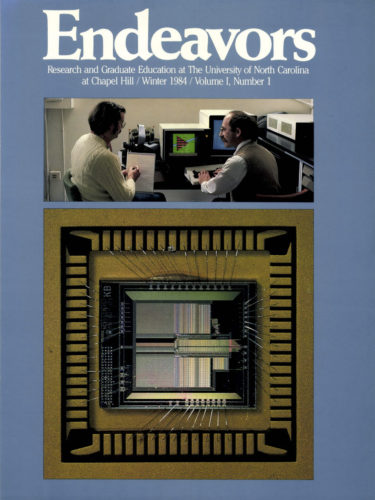 Winter 1984: In the first issue of Endeavors, UNC computer scientist Henry Fuchs discusses his design of Very Large Scale Integrated (VLSI) computer circuitry to improve speed and efficiency of computer graphics. Fuchs was particularly interested in how the technology can improve medical imaging and molecular modeling. Over three decades later, Fuchs continues to study computer science at the university and leads students in projects related to virtual reality, augmented reality, and advancing medical technology.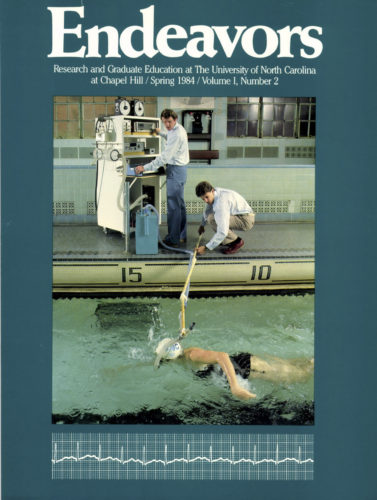 Spring 1984: Robert "Dr. Mac" McMurray, then director of the Exercise Physiology Lab, and former research assistant Vic Ben-Ezra observe a triathlete to study how swimming affects weight loss. They discovered that swimmers don't get the caloric burn post-exercise that runners get, therefore losing less weight. Their research not only impacted athletes and medical professionals, but also the general public who, as the article says, "have begun to regard physical conditioning as a means for improving their lives."
These days, the Department of Exercise and Sport Science takes pride in having one of the nation's top kinesiology programs, according to the National Research Council, and is home to 13 research labs.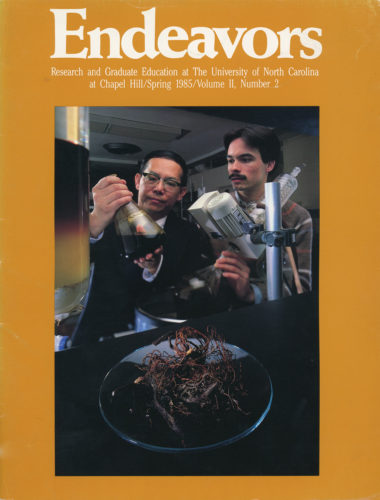 Spring 1985: Medicinal chemist Kuo-Hsiung Lee and then-graduate student Lee Thurston check the pulverized roots and stems of the Mayapple plant in an attempt to extract the anti-cancer agent Podophyllotoxin. Lee's work centered around the chemical analysis of ancient plant remedies for modern drugs to fight diseases like malaria and cancer.
Lee is still a professor at Carolina and director of the Natural Products Research Laboratories and has made major contributions in natural products investigation with projects in medicinal chemistry, bioactive natural products, anti-cancer and anti-AIDS drug discovery and development, and Chinese medicine.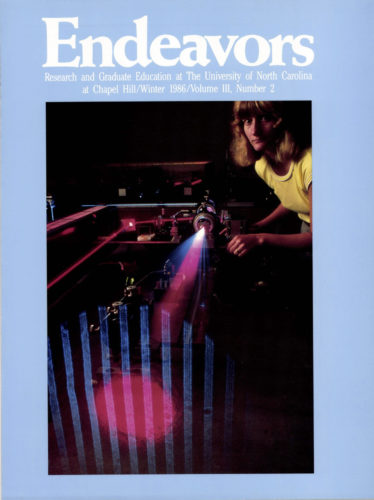 Winter 1986: Graduate student Amy Barish uses a holographic system, created by UNC oncologist Don Gabriel and chemist Charles Johnson, Jr., to better observe molecules. By crossing laser beams, this method creates a light pattern that exposes and modifies the molecules studied. Experiments like this advanced techniques in biomedical engineering, setting the stage for the current UNC/NC State Joint Department of Biomedical Engineering.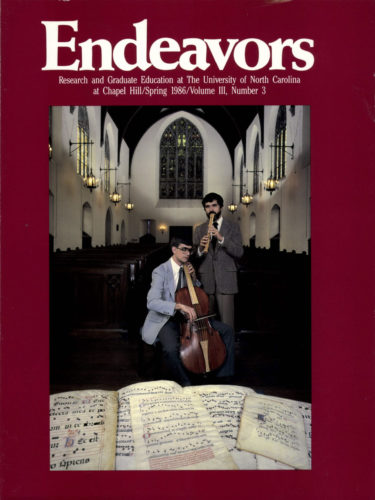 Spring 1986: Musicology doctoral student Paul Laird bows the cello alongside Guilio Ongaro, also a doctoral student, who plays the recorder. At the time, both traveled for their research. Laird visited Spain to study Spanish vernacular religious music popular in the 16th to 19th centuries, and Ongaro studied Renaissance composer Adrian Willaert and the choir of St. Mark's in Venice.
Since then, the UNC Department of Music has expanded to include courses in classical, jazz, bluegrass, musical theater, world music, rock, country, hip-hop, and music technology, and gives students the opportunity to work with world-renowned scholars in musicology, theory, and ethnomusicology.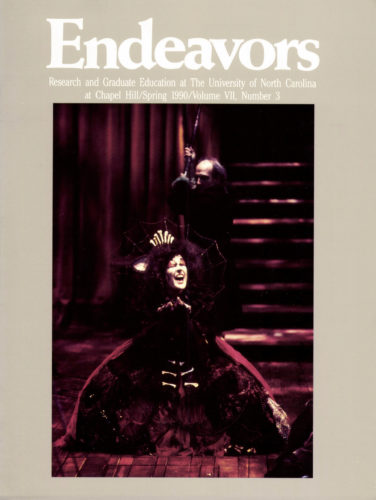 Spring 1990: Graduate student Jennifer Schneider talks about her work combining history, art, and fashion. Working with the PlayMakers Repertory Company, which celebrated its 100th anniversary in 2018, Schneider translated authentic dress into practical theater costumes. "Not only do we have to look at the actual period garments so that our work looks authentic, but we have to plan how actors can get into them quickly," Schneider said in the article.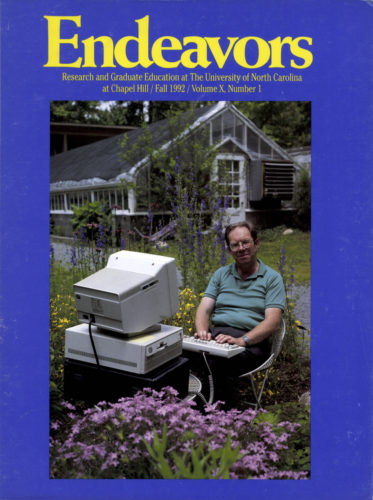 Fall 1992: Peter Robinson, climatologist and associate professor of geography, argued that the media's use of the term "the greenhouse effect" misleads the public as it relates to climate change. A changing climate means more than changing temperatures, and Robinson used computer models to study past and future precipitation patterns. "The program allows anyone with access to a personal computer and an optical disk reader (the computer equivalent of a stereo's compact disk player) to develop temperature predictions for any place in the United States."
At UNC, climate change is now a cross-discipline issue, with everyone from urban planning experts to evolutionists studying its consequences. Most recently, Carolina developed the Environment, Ecology and Energy Program to focus on interdisciplinary research challenges and emphasize experiential education opportunities.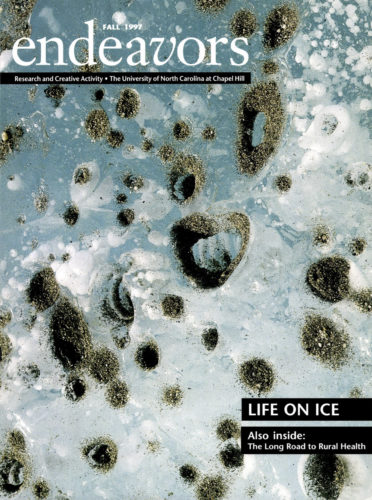 Fall 1997: UNC marine scientists Hans Paerl and Jay Pinckney traveled to Lake Bonney in Antarctica to study tiny organisms living in one of the coldest, most inhospitable environments on Earth. Learning how these organisms survive, they believed, might reveal how life could exist on Mars or other frozen planets.
Although Paerl hasn't recently returned to Antarctica, he is still working on projects related to the ecology of ancient microbes, and how their algal blooms can cause toxic water-quality issues.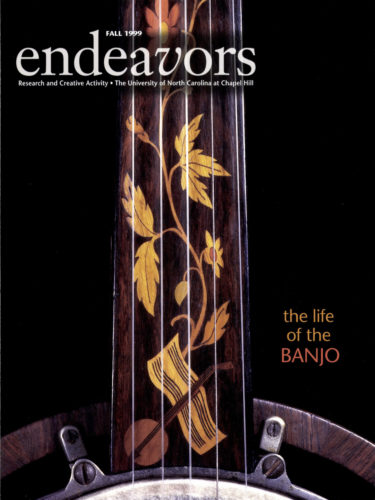 Fall 1999: Phillip Gura, professor of English and American studies, talks about research for his book, "America's Instrument: The Banjo in the Nineteenth Century." The book chronicles the history of the instrument, from its introduction to the country by African slaves to its growth into an American icon.
This spring, the Department of American Studies will celebrate its 50th anniversary, along with the growth of the department to include focus in American Indian and indigenous studies, digital American studies, folklore, food studies, global American studies, and southern studies.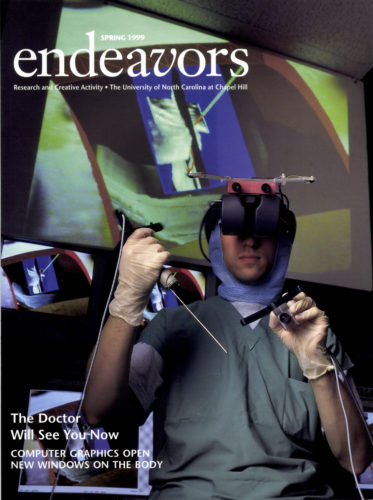 Spring 1999: The Medical Imaging and Display Analysis Group — which included over 90 Carolina and Duke researchers in fields like computer science, mathematics, biostatistics, and biomedical engineering — teamed up on several medical imaging projects. Their work encompassed developing a 3D map of blood vessels in the brain, enhancing digital mammographs, and using augmented reality to improve surgical techniques.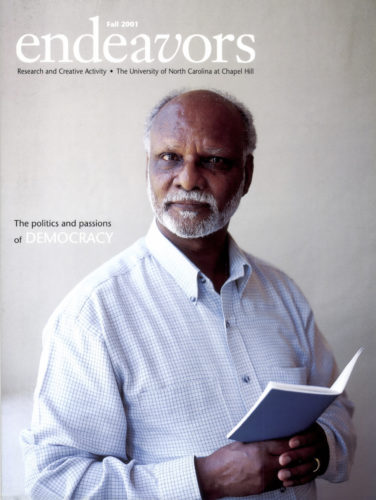 Fall 2001: After Eritrea gained independence from Ethiopia in 1991, Bereket Habte Selassie was named the principal draftsman of the new constitution. An Eritrean native and now emeritus professor of African studies and emeritus professor of law, Selassie told Endeavors he always carries a pocket-sized version of the document with him. This issue featured the work of many UNC researchers studying democracy — both old and new forms of the political system, as well as its successes and failures.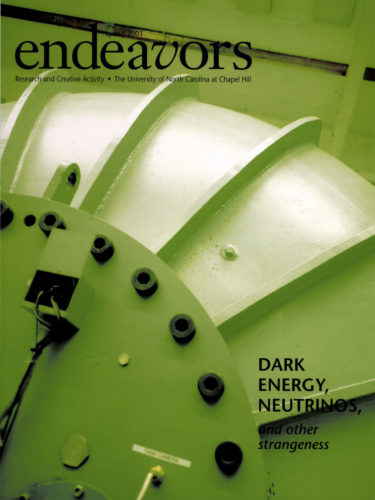 Spring 2003: Physicists at the Triangle Universities Nuclear Laboratory (TUNL) discuss collaboration between Carolina, Duke, and N.C. State in experimental nuclear astrophysics. At the time of publication, TUNL was one of the largest university-based nuclear physics labs in the United States. Today, it is one of only four U.S. Department of Energy Centers of Excellence that focuses on low-energy nuclear physics research, and it celebrated its 50th anniversary in 2015.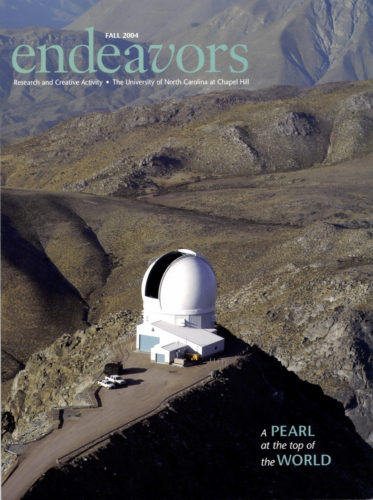 Fall 2004: UNC astronomers helped create a world-class telescope, called SOAR (Southern Astrophysical Research), still perched and operating in the foothills of the Chilean Andes. The telescope allows researchers to capture high-quality images remotely, making Carolina a key player on the global astronomical scene.
UNC astronomers now have five impressive telescopes, located in Chile, South Africa, and on campus at the Morehead Planetarium and Science Center.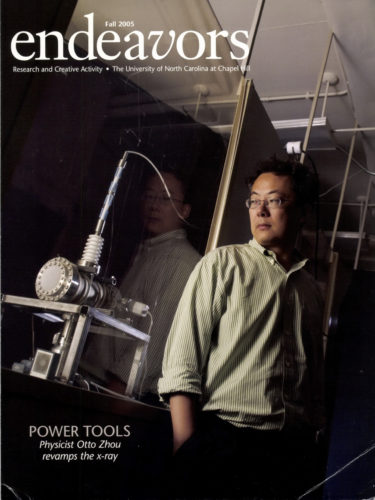 Fall 2005: Physicist Otto Zhou uses carbon nanotubes — made of a single layer of carbon atoms and 100,000 times thinner than a human hair — to help make X-ray machines work faster, come in smaller packages, and create clearer images. This technology led Zhou to his current position, head of UNC's Applied Nanotechnology Lab, where he and his team develop advanced instruments for diagnostic medical imaging and radiation therapy.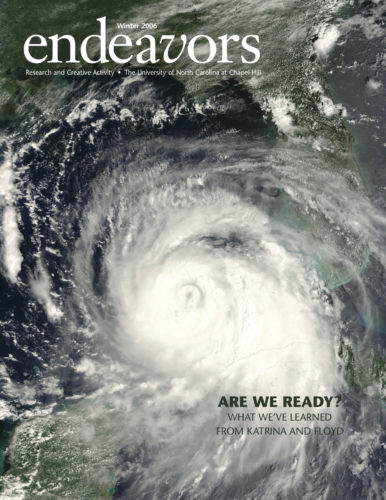 Winter 2006: Carolina scientists shared the lessons learned from Hurricane Floyd (1999) and Hurricane Katrina (2005) and questioned if North Carolinians are more prepared for future big storms. Researchers from marine sciences, city and regional planning, public health, geography, and environmental sciences discussed expanding floodplain maps, the probability of 100 and 500-year storms, weather forecasting, and the need for more aggressive disaster planning.
Today, experts rely on UNC scientists at the Coastal Resilience Center and ADCIRC, a program used to predict how ocean waters will move and how high they will rise during a storm. A key tool for forecasting storm surge and coastal flooding during hurricanes, ADCIRC is used by the National Weather Service and N.C. Emergency Management to forecast flooding.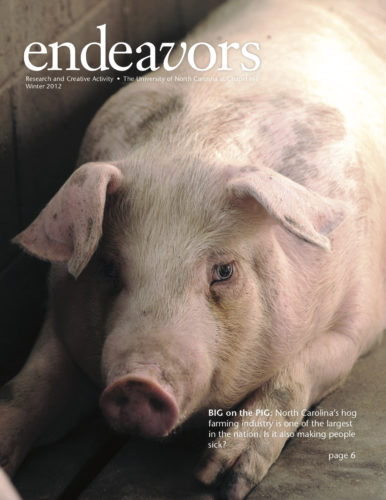 Winter 2012:  In its last printed edition, Endeavors explored the complexities behind issues associated with hog farming and hog-waste lagoons, discussing the historical context of hog-waste management and talking to UNC researchers about the effects on human and environmental health.
Today, UNC continues to develop multidisciplinary collaborations to understand major environmental issues. With environmental expertise in every discipline on campus, the Institute for the Environment was formed in 1998 to bring together these diverse researchers and work together on the most pressing problems of our time.